Click Here for Pictures of our Studio.
Wisdom Flow Studio is located at 95 Makawao Ave. between Old Haleakala and New Haleakala Highways. It is a few doors down from Pukalani Superette, two doors down from First Hawaiian Bank and right next door to Kojima's Japanese Restaurant. Our building is set way back from the street which makes our studios peaceful and private, but sometimes easy to miss. We are directly across the street from the horse pasture next to the Fire Station. We have 21 parking spots and 6-8 overflow spots along the east edge of the lot. If the lot is full, please park safely at Pukalani Square and walk across the lawn in front of Kojima's to get to the studio. We have two studios. Both are upstairs. Each has its own entrance.
Front Studio Entrance
Map and Directions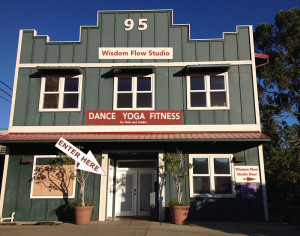 Front Studio entrance is on the left side of the building. Walk to the center entrance and there will be a door to your left that opens to our stairwell. Walk up and you will be greeted! Our Kid's Classes are held in the Front Studio. When you are dropping your kids off for class, you may use the loading space at the top of the driveway. Be slow and careful pulling in and out of spaces during the busy drop off and pick up times.
Back Studio Entrance
Map and Directions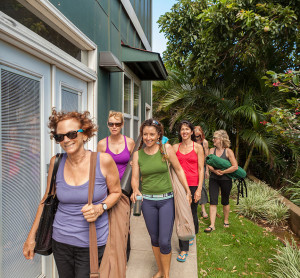 Back Studio entrance is on the right side of the building near the back. Walk down the right side of the building towards the red awning. You will pass the doors to the Spa below us. Be sure to stay quiet as you pass. Under the red awning is the doorway to our Back Studio. Go up the stairs and you will be greeted. If you arrive late for yoga class and everyone is already in the quiet meditation before asana, please sit quietly in the stairwell until you hear the opening Om. Then come in and set up your mat.
Yoga trains the body to move in optimal alignment.