Maui 200 hour Yoga Teacher Training – February 2014 Registration Form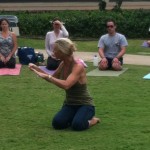 February 10 – 25, 2014, Join Jennifer Lynn and staff for fifteen intensive days of study and practice that will prepare you to teach with confidence and joy.  Our studio is located in a quiet retreat center with saline pool, large kitchen, wood-floor studio and many shady study areas.  For off-island students you can choose private or shared rooms at the retreat center.  Local students are welcome to stay at the retreat center or drive from home.  Details outlined in your registration package. 808-268-4095.  Our trainings have been called the most intelligent, well-organized, empowering and fun-filled teacher training on earth!  You will enjoy lunch breaks under the banyan trees, study sessions in the pool, buddy system practicum, learn through rhythm, song and poetry.  In an environment of relaxed playfulness you will find you are acquiring new knowledge with ease and pleasure.  Course fees are $2500 and include your Teacher Training Manual.  Click here to download 200 hour registration form.
Special guest lecturers include P.T. Christie Newsom, Ayurveda Practitioner Uma Gal, Nutritional Counselor Danielle Ryan and more.
Advanced Teacher Trainings – 500 hour certification – March 15-23, 2014 – plus continuing education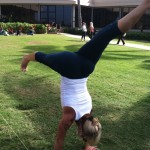 Teaching and living Yoga is a constantly evolving path.  The best teachers are ones willing to seek further education and who enjoy chewing on leading edge concepts and teaching methods to keep their offering fresh, fun and effective.  Take a look at our curriculum.  Thank you for your interest in advancing your skills a yoga teacher through Wisdom Flow Yoga School.  We look forward to welcoming you to these rich programs that will lead to your 500-hour certification. Our first module runs 9 days – one weekend plus a full week.   We choose this time frame to support working teachers who want to minimize their time away from work and/or family.  This first module covers 120 hours of your 300-hour requirement for 500 hour certification.  The remaining 180 hours will be completed remotely through projects, assignments, and webinar classes conducted through GlobalYogaFlow.com (our interactive online yoga website).
These advanced modules are open to 200-hour certified teachers or students with a working knowledge of the Yoga Sutras and a regular asana and pranayama practice.   Download Advanced Training Registration Form
call Jennifer anytime 808-268-4095 for details and special arrangements