Maui Yoga Teacher Training – June 7-21, 2014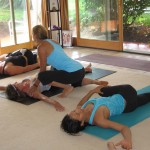 Wisdom Flow Yoga offers one of the most comprehensive and fun teacher trainings on the planet.  We begin with a clear vision of the underlying philosophy – that every living being arises from and is rooted in divine energy, that we come to earth to joyfully expand and refine the expressions of Source Energy (aka Love), and by deepening our knowledge of body and mind we can focus our energy towards this fruitful joyful expansion.  From this core philosophy we unfold the methodology of asana, pranayama, meditation, and more.   Each day includes time for every student to take the "seat of the teacher" and practice using the voice of loving leadership.  With this daily practice of voicing the material covered, teaching skills develop quickly.  Our playful methods for remembering material help too.  We sing and dance and use word association to quickly assimilate material in an atmosphere of relaxed playfulness.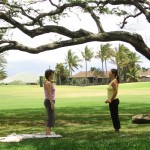 Our teacher trainings are limited to 15 students and are led by three teachers so each person gets plenty of personal attention.  This condensed intensive training is an immersion experience that roots the knowledge and skill deeply in each student.  We meet ten hours each day and reading is required each night.  Training fees are $2500.  Accommodations are handled separately.  We can help make arrangements for students coming from off-island.  To read more about the June Wisdom Flow Yoga 200 hr. Yoga Alliance certified program, click here.  You are welcome to send an inquiry email to Jennifer@wisdomflowyoga.com.  We look forward to exploring and expanding with you!  Download Information and Registration Form Now.